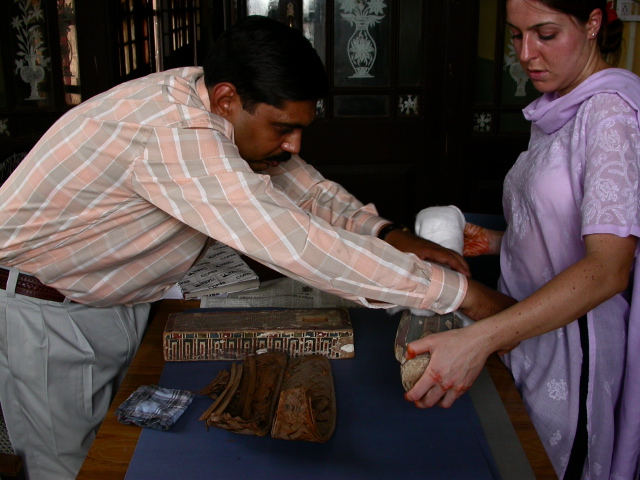 The project "Egyptian collection in India: a study of the existing, census and investigation of their formation", supervised by Edda Bresciani, was funded by Ministero Italiano dell'Università e della Ricerca (MIUR) between 2001 and 2003. After two long missions in India, done by Marilina Betrò, Roberto Buongarzone, Claudia Liuzza and Flora Silvano, eight collections of Egyptian antiquities of the museum in Baroda, Bombay, Calcutta, Delhi, Hyderabad, Jaipur and Lucknow were documented and analyzed, only partially shown to the public and almost totally unknown to the Egyptological community.
The complete study of those collection, born during the British domination, offered moreover an interesting view on the creation of a taste and colonial aesthetics during the rising of "orientalism".
The final step of the project was the publication in the 2004 of the wonderful book "Egypt in India. Egyptian Antiquities in Indian Museums", edited by Edda Bresciani and Marilina Betrò. The book, beside the catalogue edited by S. Andrenucci, M. Betrò, E. Bresciani, R. Buongarzone, C. Liuzza and F. Silvano, presents also texts on history, political cultural and collections history in India of Giampaolo Calchi-Novati, Simona Vittorini, Simonetta Casci, Ugo Fantasia and Marilina Betrò.