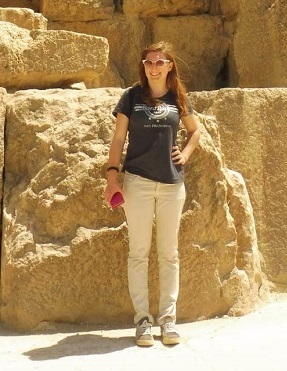 Camilla Saler
Camilla Saler graduated in Orientalism at the University of Pisa in 2019 with a thesis in Egyptology entitled "Gli scarabei egizi del Medio Bronzo del deposito C e del gruppo nn.1371-1432 del Tempio di Ba'alat Gebal a Biblo". Her academic interests revolve around relations between Egypt and the Levant, especially the north, in the Middle Bronze Age (2000-1500 BC), with particular attention to material culture.
She has carried out various collaborations and placements at various museum bodies, including the Egyptian Museum of Turin (2016) and the British Museum of London (2018). She took part in excavations in Egypt as a member of the Italian Archaeological Mission in Dra Abu el-Naga (Luxor, 2018-2020) and of the joint mission of the Universität Leipzig and the Egyptian Ministry of Antiquities at the Heliopolis site (Cairo, 2019). She is currently part of the team of the PROCESS project, National Research Interest Project 2017 (PRIN) lead by Gianluca Miniaci.
Her current research project concerns the transmission of the funeral material culture of Middle Bronze Egypt in the Levantine area (Lebanon, Western Syria).
Publications: https://arpi.unipi.it/cris/rp/rp27802